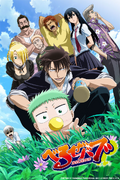 The anime of Beelzebub is produced by Studio Pierrot and directed by Yoshihiro Takamoto. It broadcasted in Japan from January 9, 2011, to March 25, 2012, on Nippon Television and Yomiuri Television. A total of 60 episodes were aired with the manga still ongoing. Each episode first aired every Sunday at 7:00 am JST. It is also licensed and simulcast online by Crunchyroll in North America, parts of Europe, parts of Australasia and Brazil, and distributed on DVD in North America by Discotek Media.
Following the 2011 Tōhoku earthquake and tsunami, the anime had been postponed for two weeks because of the provocative nature of the series[1]. The anime's regular timeslots on March 13 and 20 had been replaced with reruns of Yumeiro Patissiere[2]. The episode that was originally to be aired as episode 10 on March 13, 2011, is now episode 13, while the episode that was originally to be aired as episode 11 on March 20, 2011, is now episode 15. The two originally scheduled episodes immediately following these two postponed were aired first.
In addition to the regular series, the anime also comprises one OVA and two mini-series released exclusively on DVD.
Episodes
#

Title

Airdate

1
I Picked Up the Demon Lord
(魔王拾いました, Maō hiroimashita)
January 9, 2011
2
I Became a Child Carrying Gang Leader
(子連れ番長始めました, Kozure banchō hajimemashita)
January 16, 2011
3
Are There Any Strong Evil Rascals Here?
(強くて凶悪なヤローいませんか?, Tsuyoku te kyōaku na yarō imasen ka?)
January 23, 2011
4
There's 1 Second Before the Demon Lord's Peeing Bursts
(魔王のおもらし決壊1秒前ですが, Maō no omorashi kekkai ichibyō mae desuga)
January 30, 2011
5
There's Nothing Money Can't Buy
(お金でかえないものはありません, Okane de kaenai mono wa arimasen)
February 6, 2011
6
The Toys from the Demon World Have Arrived (Part A)
(魔界のおもちゃ 届きました, Makai no omocha todokimashita)

We Played Doctor (Part B)
(お医者さんごっこしました, O'isha-san gokko shimashita)

February 13, 2011
7
The Demon Lord Even Makes a Park Debut
(魔王も公園デビューします, Maō mo kōen debyū shimasu)
February 20, 2011
8
We Met Again
(また 出会いました, Mata deaimashita)
February 27, 2011
9
Love is a Hurricane
(恋はハリケーンです, Koi wa harikēn desu)
March 6, 2011
10
The Disciple is Ready
(弟子ができました, Deshi ga dekimashita)
March 27, 2011
11
There Were Things Money Can't Buy
(金で買えないもの、ありました, Kane de kaenai mono, arimashita)
April 3, 2011
12
I Won't Let You Sleep Tonight
(今夜は寝かせません, Konya wa nekasemasen)
April 10, 2011
13
Baby Beel: The Assessment Test (Part A)
(ベル坊 実力テストです, Berubō jitsuryoku tesuto desu)

Hilda: Dear Great Demon Lord (Part B)
(ヒルダ 拝啓大魔王様, Hiruda haikei Daimaō-sama)

April 17, 2011
14
Is There a Special Move?
(必殺技、ありますか?, Hissatsuwaza, arimasu ka?)
April 24, 2011
15
The Delinquents Have Changed into Swimsuits
(不良が水着に着替えました, Furyō ga mizugi ni kigaemashita)
May 1, 2011
16
You're Not a Man at All, Eh
(なかなか男じゃないですか, Nakanaka otoko janai desu ka)
May 8, 2011
17
What Do You Think of Demon World Homework?
(魔界の宿題どうでしょう?, Makai no shukudai dō deshō?)
May 15, 2011
18
I Stopped Being a Gang Leader with a Child
(子連れ番長、やめました, Kozure banchō, yamemashita)
May 22, 2011
19
The Doctor Came
(医者がきました, Isha ga kimashita)
May 29, 2011
20
Everyone Gathering
(全員集合です, Zen'in shūgō desu)
June 5, 2011
21
Who Do You Think is Ishiyama's Strongest?
(石矢魔最強、どっちでしょう?, Ishiyama saikyō, docchi deshō?)
June 12, 2011
22
The Mountainous Seclusion
(山ごもりです, Yamagomori desu)
June 19, 2011
23
Honmakai
(ほんまかい, Honmakai)
June 26, 2011
24
Tadaimakai
(ただいまかい, Tadaimakai)
July 3, 2011
25
The New School Term Has Started
(新学期はじまりました, Shingakki hajimarimashita)
July 10, 2011
26
May I Call You Aniki
(アニキと呼んでもいいですか, Aniki to yon demo ii desu ka)
July 17, 2011
27
Called a Magical Girl
(魔法少女と呼ばれて, Mahō shōjo to yobarete)
July 24, 2011
28
Let's Try Doing Body Measurements
(身体測定してみましょう, Shintai sokutei shite mimashō)
July 31, 2011
29
What's the Rokkisei?
(六騎聖って何ですか?, Rokkiseitte nani desu ka?)
August 7, 2011
30
Who Could the Rokkisei Be?
(六騎聖は誰でしょう?, Rokkisei wa dare deshō?)
August 14, 2011
31
The Dispute Was Not Settled
(決着、つきませんでした, Kecchaku, tsukimasen deshita)
August 28, 2011
32
What Happened Because of the Transfer Girl?
(転校少女に ナニが起こりましたか?, Tenkō shōjo ni nani ga okorimashita ka?)
September 4, 2011
33
There Were Scars from the Past
(過去の傷 、ありました, Kako no kizu, arimashita)
September 11, 2011
34
Maids Completely Rustling
(メイドお騒がせします, Meido osawagase shimau)
September 18, 2011
35
The Time to Start the Match
(試合開始の時間です, Shiai kaishi no jikan desu)
September 25, 2011
36
The Dispute is Finally Settled
(決着、やっとつきました, Kecchaku, yatto tsukimashita)
October 2, 2011
37
That Man Was a Sensei
(その男、先生でした, Sono otoko, sensei deshita)
October 9, 2011
38
The Sibling Rivalry Has Begun
(兄弟ケンカ、始めました, Kyōdai kenka, hajimemashita)
October 16, 2011
39
The Older Brother Was a Crybaby
(兄は泣き虫でした, Ani wa nakimushi deshita)
October 23, 2011
40
The Assassins Aren't Guests
(刺客は客ではありません, Shikyaku wa kyaku dewa arimasen)
October 30, 2011
41
What to Do in This Desperate Situation?
(絶体絶命どうしましょう, Zettaizetsumei dō shimashō)
November 6, 2011
42
It's Time to Train
(修業の時間ですよ, Shugyō no jikan desu yo)
November 13, 2011
43
Where Did the Older Brother Disappear To?
(兄はどこへ消えたのでしょう?, Ani wa doko e kieta no deshō?)
November 20, 2011
44
I Have to Get Stronger
(強くならなきゃいけません, Tsuyoku nara nakyaikemasen)
November 27, 2011
45
There's One Day and 1 Hour Left Until the Game
(ゲームは一日1時間までです, Gēmu wa ichinichi ichijikan made desu)
December 4, 2011
46
Burn, Super Combination!
(燃えろ、超絶合体!, Moero, chōzetsu gattai!)
December 11, 2011
47
Sorry to Have Kept You Waiting
(お待たせしました, Omataseshimashita)
December 18, 2011
48
I'm His Parent
(オレが親です, Ore ga oya desu)
December 25, 2011
49
Beelzebub New Year's Special! BeelBeel Saiyūki
(べるぜバブお正月スペシャル!ベルベル西遊記, Beruzebabu oshōgatsu supesharu! BeruBeru Saiyūki)
January 8, 2012
50
Today I'm Different on the Inside
(今日は中身が違います, Kyō wa nakami ga chigaimasu)
January 15, 2012
51
Komainu-sama is Watching
(コマ犬様が見てる, Komainu-sama ga miteru)
January 22, 2012
52
And Then There Were No Delinquents
(そして不良は誰もいなくなりました, Soshite furyō wa daremo inakunarimashita)
January 29, 2012
53
Baby Beel: First Conquest (Part A)
(ベル坊 はじめての征服, Berubō hajimete no seifuku)

Furuichi: Fallen in Love (Part B)
(古市 恋しました, Furuichi koishimashita)

February 5, 2012
54
Black Baby Beel Has Grown
(黒ベル坊、育ちました, Burakku Berubō, sodachimashita)
February 12, 2012
55
I Lost My Pompadour (Part A)
(リーゼント、なくしちゃいました, Rīzento, nakushichaimashita)

The Great Demon Lord Has Come (Part B)
(大魔王、来ちゃいました, Daimaō, kichaimashita)

February 19, 2012
56
Betrayal? (Part A)
(裏切りですか, Uragiri desu ka)

The Men's Turn...? (Part B)
(男たちの番か..., Otokotachi no ban ka...)

February 26, 2012
57
You Don't Eat Manjū? (Part A)
(饅頭、食べませんか?, Manjū, tabemasen ka?)

You Don't Do Mixed Bathing? (Part B)
(混浴、しませんか?, Konyoku, shimasen ka?)

March 4, 2012
58
Akumano Academy Has Opened
(悪魔野学園、開校しました, Akumano Gakuen, kaikō shimashita)
March 11, 2012
59
We're the Strongest
(オレたちが最強です, Oretachi ga saikyō desu)
March 18, 2012
60
I Won't Say Goodbye
(さよならは言いません, Sayonara wa iimasen)
March 25, 2012
OVA
DVD Mini-Series
#

Title

Release

1
The Murder Smells Like Korokke
(殺しはコロッケの匂い, Koroshi wa korokke no nioi)
June 29, 2011
2
Baby Beel Becomes a Magnificent Detective
(華麗なるベル坊刑事, Karei naru Berubō deka)
July 27, 2011
3
Chase the Red Tailed Woman
(赤いシッポの女を追え, Akai shippo no onna o oe)
August 24, 2011
4
The Incident Was Left Out in the Conference Room
(事件は会議室で以下省略, Jiken wa kaigishitsu de ika shōryaku)
September 28, 2011
5
Detective Baby Beel Dies in the Dark!?
(ベル坊刑事、暁に死す!?, Berubō deka, akatsuki ni shisu!?)
October 26, 2011
6
Farewell, Detective Baby Beel
(さらばベル坊刑事, Saraba Berubō deka)
November 23, 2011
See also
References
Community content is available under
CC-BY-SA
unless otherwise noted.