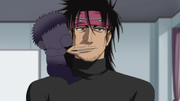 I'm
Takashichea
, a member of
Team W.I.K.I. Nation
from Anime Vice. I'm a longtime wiki editior who worked on Beelzebub for Anime Vice. I came here to help the other wiki editors. I add as much info as I can while managing my other wiki job at Anime Vice and school.
Annabanana is my great partner at Anime Vice. She got me into Beelzebub. In fact, she got me into a lot of anime just like my little sister. Over there, Anna had a ton of Beelzebub images. I hope to share that with the good folks here. Here are some images she posted.
Status: I'm not active on Beelzebub Wikia. My love and commitment goes to Anime Vice, Sket Dance Wikia, and Magi Wikia. I was going to say Rave Master Wikia. I didn't give it enough commitment. Sorry Mega.
Other Wiki Editor Profiles
Edit
Anime Vice Projects
Edit
In Anime Vice, I had a lot of projects. I'm still new to the wikia sites. With school and Anime Vice, I have to manage my time a better. Sometimes, I end up overworking. I work on episodes, volumes, characters, and more with my teams. During Fall 2011, I did the weekly reports to talk about the anime and its wiki work for the sake of my team.
Hetalia World Axis Powers
Alice in the Country of Hearts
Wikia Projects
Edit
Top Priorities
Edit
Sket Dance - Help out with the episodes and characters.
Beelzebub - Help out with the episodes.
Fairy Tail - (it's low because they have a lot of wiki editors there)
Jan. 30 = I was having a hard time doing anime/manga differences for Black Beel and Zenjuro in episode 52. Tyciol told me a different method which I followed now.
Jan. 31 = I added the Taniyurikai image of the girls when I saw FOMA working on their page.
Feb. 4-5 = I added Lamia's image of her and Furuichi in a lewd conduct in her relationships section. Did a bit tweaking to fix the grammar stuff.
Community content is available under
CC-BY-SA
unless otherwise noted.